Four distinct cell types (HDFa, BE2C, HCT116 and U251) were profiled with the ID3EAL Cancer miRNA Panel. One hundred nanograms of RNA from each sample was used for reverse transcription. About 300 miRNAs were detected for each cell line, with 244 common miRNAs detected with CT ≤ 33 across all 4 cell lines.


Number of miRNAs Detected CT number of miRNAs Detected
Inter-plate calibrator normalization and biological normalization by global mean or reference miRNAs were performed prior to inter-sample miRNA ΔCT calculation. MiRNA expression comparison in HFDa and U251 cells are visualized through a scatter plot. Data points that fall outside of ±1 cycles regression lines indicate miRNAs differentially expressed in the both cell lines.


Format of Panel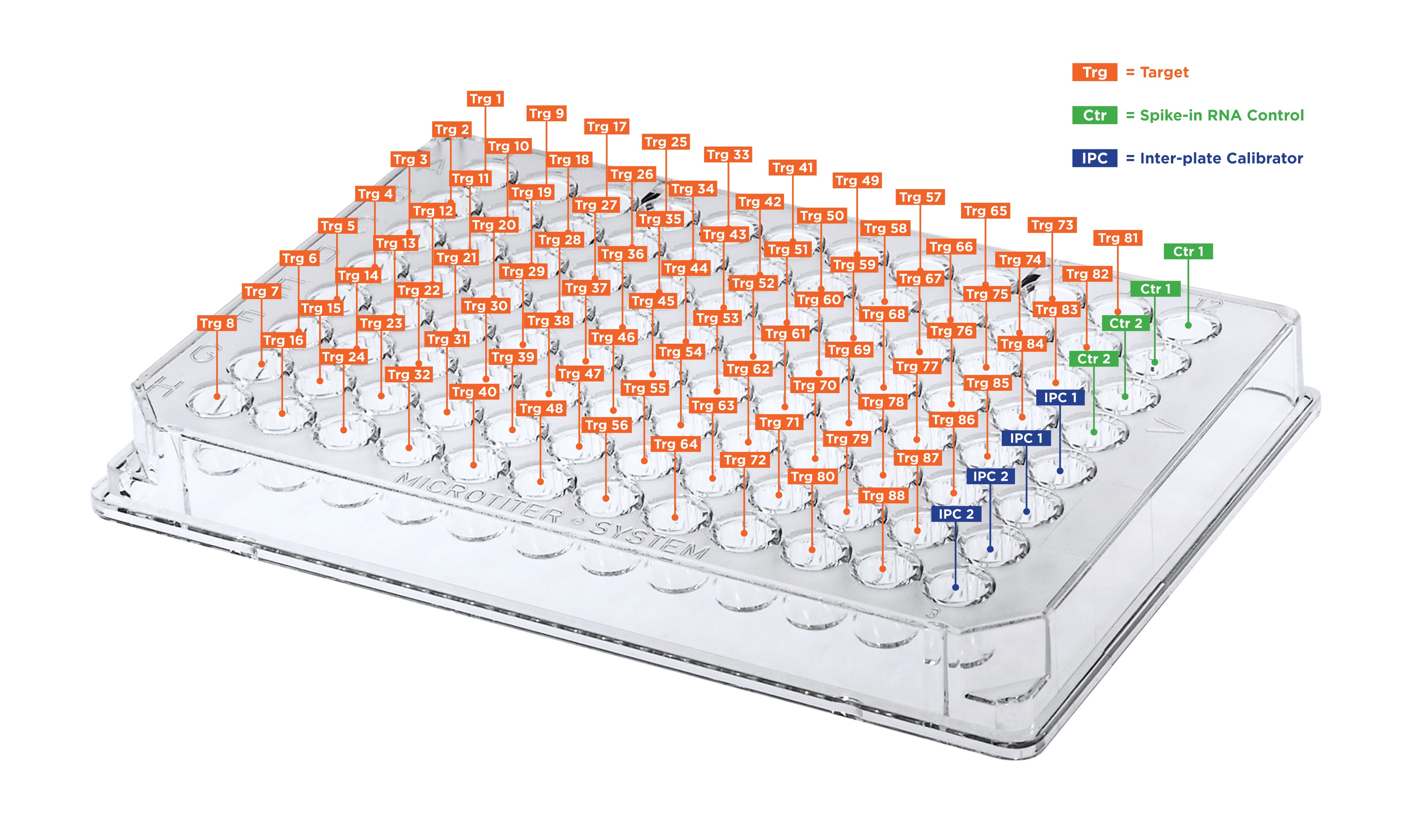 Cancer miRNA knowledge panel
CAT. NO.
Name
DESCRIPTION
SAMPLES
1105152
ID3EAL miRNA Knowledge Panel 96 Targets, 96-well (6)
1 x 24 μl of ID3EAL miRNA RT Primers 96-plex
6 x 96-well PCR plates
6
1105153
ID3EAL miRNA Knowledge Panel 96 Targets, 96-well (12)
1 x 24 μl of ID3EAL miRNA RT Primers 96-plex
12 x 96-well PCR plates
12
1105154
ID3EAL miRNA Knowledge Panel 96 Targets, 96-well (24)
2 x 24 μl of ID3EAL miRNA RT Primers 96-plex
24 x 96-well PCR plates
24
1105262
ID3EAL miRNA Knowledge Panel 384 Targets, 96-well (6)
2 x 24 μl of ID3EAL miRNA RT Primers 96-plex
24 x 96-well PCR plates
6
1105263
ID3EAL miRNA Knowledge Panel 384 Targets, 96-well (12)
2 x 24 μl of ID3EAL miRNA RT Primers 96-plex
48 x 96-well PCR plates
12
1105264
ID3EAL miRNA Knowledge Panel 384 Targets, 96-well (24)
2 x 24 μl of ID3EAL miRNA RT Primers 96-plex
96 x 96-well PCR plates
24
Choose your thermal cycler
Roche
Abi Fast
Abi Standard
Bio-Rad