In this study, the research group aims to profile and identify key microRNA targets driving the morphological changes between bone marrow and adipose lineages from Human Fetal MSCs. Human fetal MSCs were cultured (no more than 7th passage). Cell line specific factors were introduced to differentiate them into bone marrow and adipose lineages for 6 days. Five biological replicates from each group were collected and profiled with ID3EAL Stem Cell miRNA knowledge panel.
One hundred nanograms of total RNA from each sample was used for reverse transcription and qPCR profiling. Of the 176 miRNAs, 165 miRNAs were detected in adipose lineage differentiation and 164 miRNAs were detected in cells from bone marrow lineages.

Most significantly regulated miRNAs can be identified through the examination of p-value and 2-ΔΔCT fold change. Candidate miRNAs with most significant p-values and fold changes can be visualized through a volcano plot (Figure 5). MiRXES offers wet lab validated individual miRNA qPCR assays for further validation of identified miRNA candidate.

Single out potential key microRNA regulators

Format of Panel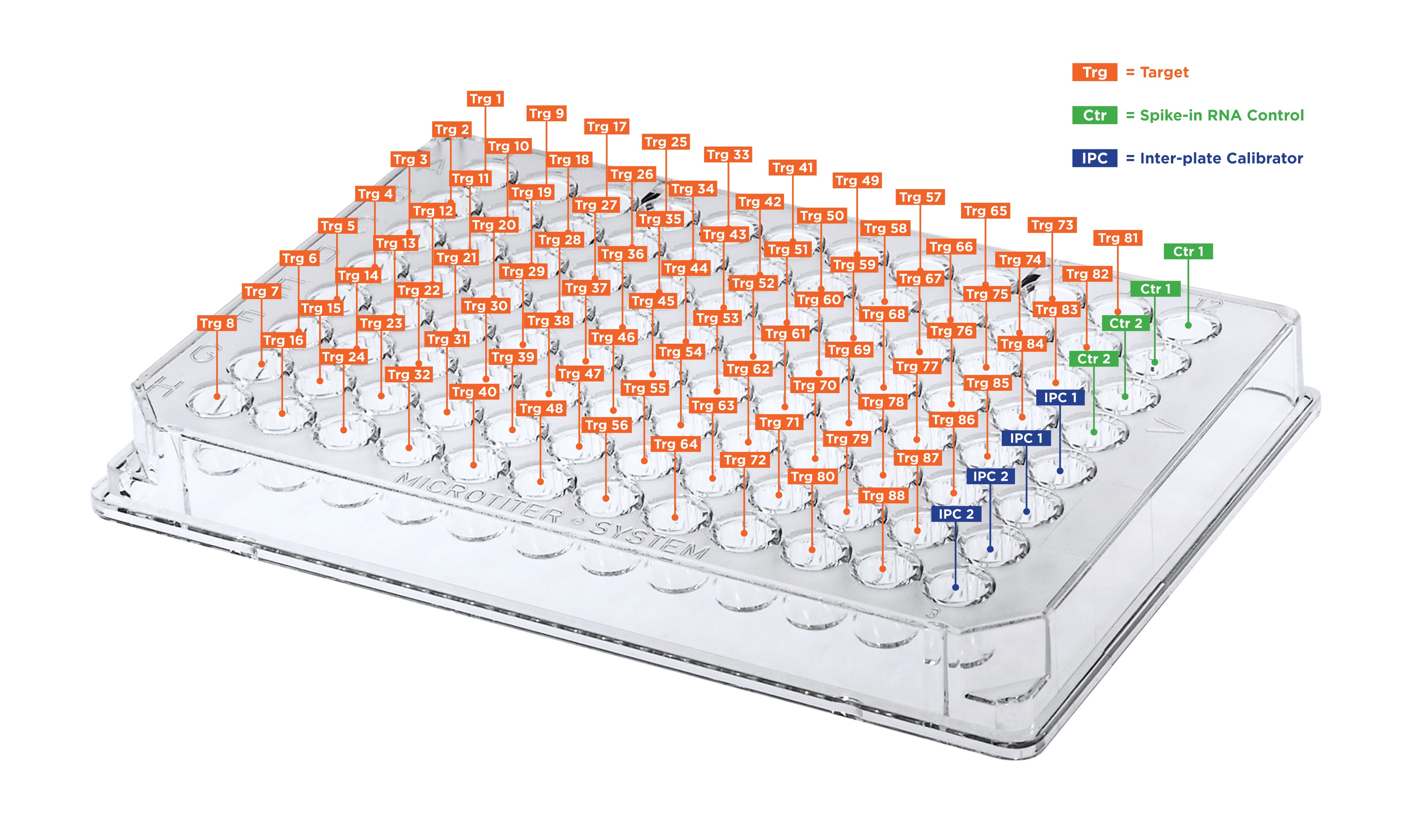 Stem Cell
CAT. NO.
Name
DESCRIPTION
SAMPLES
1105151
ID3EAL miRNA Knowledge Panel 96 Targets, 96-well (2)
1 x 24 μl of ID3EAL miRNA RT Primers 96-plex
2 x 96-well PCR plates
2
1105152
ID3EAL miRNA Knowledge Panel 96 Targets, 96-well (6)
1 x 24 μl of ID3EAL miRNA RT Primers 96-plex
6 x 96-well PCR plates
6
1105153
ID3EAL miRNA Knowledge Panel 96 Targets, 96-well (12)
1 x 24 μl of ID3EAL miRNA RT Primers 96-plex
12 x 96-well PCR plates
12
1105154
ID3EAL miRNA Knowledge Panel 96 Targets, 96-well (24)
2 x 24 μl of ID3EAL miRNA RT Primers 96-plex
24 x 96-well PCR plates
24
1105251
ID3EAL miRNA Knowledge Panel 192 Targets, 96-well (2)
2 x 24 μl of ID3EAL miRNA RT Primers 96-plex
4 x 96-well PCR plates
2
1105252
ID3EAL miRNA Knowledge Panel 192 Targets, 96-well (6)
2 x 24 μl of ID3EAL miRNA RT Primers 96-plex
12 x 96-well PCR plates
6
1105253
ID3EAL miRNA Knowledge Panel 192 Targets, 96-well (12)
2 x 24 μl of ID3EAL miRNA RT Primers 96-plex
24 x 96-well PCR plates
12
1105254
ID3EAL miRNA Knowledge Panel 192 Targets, 96-well (24)
4 x 24 μl of ID3EAL miRNA RT Primers 96-plex
48 x 96-well PCR plates
24
Choose ID3EAL Stem Cell Knowledge Panel
Stem Cell Panel A (HSA01106A)
Stem Cell Panel B (HSA01107A)
List of targets you can download here: Plate layout
Choose your thermal cycler
Roche
Abi Fast
Abi Standard
Bio-Rad
Stem Cell miRNA Panel Analysis Template