610 high confidence and efficient human microRNA Assays
241 high confidence and efficient mouse microRNA Assays
3,381 high confidence and efficient microRNA assays from other species
It may cover selected species. Ask about other species.
The possibility of multiplexing
RT multiplex up to 10 targets

Ensure that the similarity at both 5' and 3' end are not more than 5 out of 8 base pairs.


Unparalleled Specificity
The combination of miRNA specific RT primer and nested qPCR primer pairs enables assays to efficiently discriminate highly homologous miRNA family members with single nucleotide difference.


Assay specificity


Superior Sensitivity
The unique three primer design of the ID3EAL™ miRNA qPCR Assays yields class leading sensitivity compared to other miRNA detection systems. These assays are shown to have more consistent performance over miRNAs with varying sequences especially those with high AT content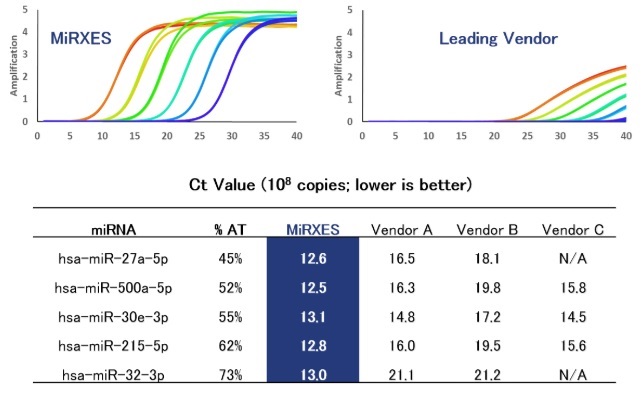 Sensitivity Compared
Greater Reproducibility
MiRXES ID3EAL™ miRNA qPCR assays yielded highly reproducible results in profiling more than 200 miRNAs from 30 cancer sera over a year in two independent laboratories (R2> 0.95). The ease of use enables even first time users to generate consistent technical and biological replicates.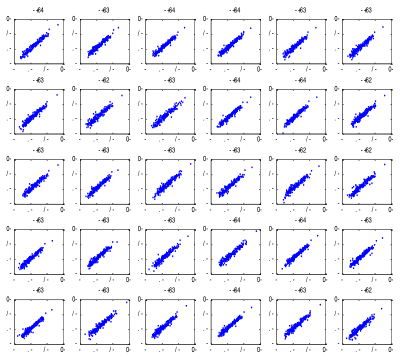 Assay Reproducibility
cDNA Synthesis System
CAT. NO.
Name
DESCRIPTION
REACTIONS
1103101
ID3EAL cDNA Synthesis System (20)
For 20 x 20 μl cDNA reactions
1 x 20 μl of ID3EAL Reverse Transcriptase (20x)
1 x 100 μl of ID3EAL miRNA RT Buffer (4x)
20
1103103
ID3EAL cDNA Synthesis System (60)
For 60 x 20 µl cDNA reactions
3 x 20 µl of ID3EAL Reverse Transcriptase (20x)
3 x 100 µl of ID3EAL miRNA RT Buffer (4x)
Lead time 7-14 days
60
Individual miRNA RT Primer 1-plex
| | | | |
| --- | --- | --- | --- |
| CAT. NO. | Name | DESCRIPTION | REACTIONS |
| 1103111 | ID3EAL Individual miRNA RT Primer 1-plex (20) | 20 μl of ID3EAL miRNA RT Primer (20x) | 20 |
| 1103113 | ID3EAL Individual miRNA RT Primer 1-plex (60) | 60 μl of ID3EAL miRNA RT Primer (20x) | 60 |
| 1103114 | ID3EAL Individual miRNA RT Primer 1-plex (100) | 100 μl of ID3EAL miRNA RT Primer (20x) | 100 |


Individual miRNA qPCR Assay
| | | | |
| --- | --- | --- | --- |
| CAT. NO. | Name | DESCRIPTION | REACTIONS |
| 1104101 | ID3EAL Individual miRNA qPCR Assay (100) | 200 μl of ID3EAL miRNA qPCR Assay (10x) | 100 |
| 1104103 | ID3EAL Individual miRNA qPCR Assay (500) | 1000 μl of ID3EAL miRNA qPCR Assay (10x) | 500 |
miRNA qPCR Master Mix
CAT. NO.
Name
DESCRIPTION
REACTIONS
1104202
ID3EAL miRNA qPCR Master Mix (200)
2 x 1,000 μl of ID3EAL miRNA qPCR Master Mix (2x)
200 x 20 μl reactions
200
1104204
ID3EAL miRNA qPCR Master Mix (800)
8 x 1,000 μl of ID3EAL miRNA qPCR Master Mix (2x)
800 x 20 μl reactions
800
1104205
ID3EAL miRNA qPCR Master Mix (1200)
12 x 1,000 μl of ID3EAL miRNA qPCR Master Mix (2x)
1200 x 20 μl reactions
1200
1104206
ID3EAL miRNA qPCR Master Mix (2400)
24 x 1,000 μl of ID3EAL miRNA qPCR Master Mix (2x)
2400 x 20 μl reactions
2400
1104212
ID3EAL miRNA qPCR Master Mix - HR (200)
2 x 1,000 μl of ID3EAL miRNA qPCR Master Mix (2x)
200 x 20 μl reactions
For High-Rox qPCR instruments
200
1104214
ID3EAL miRNA qPCR Master Mix - HR (800)
8 x 1,000 μl of ID3EAL miRNA qPCR Master Mix (2x)
800 x 20 μl reactions
For High-Rox qPCR instruments
800
1104215
ID3EAL miRNA qPCR Master Mix - HR (1200)
12 x 1,000 μl of ID3EAL miRNA qPCR Master Mix (2x)
1200 x 20 μl reactions
For High- Rox qPCR instruments
1200
1104216
ID3EAL miRNA qPCR Master Mix - HR (2400)
24 x 1,000 μl of ID3EAL miRNA qPCR Master Mix (2x)
2400 x 20 μl reactions
For High- Rox qPCR instruments
2400
Product References to the MiRXES miRNA Assays
Product References to the MiRXES ID3EAL miRNA qPCR Master Mix
Davis-Vogel C, Ortiz A, Procyk L, Robeson J, Kassa A, Wang Y, Huang E, Walker C, Sethi A, Nelson ME, Sashital DG. Knockdown of RNA interference pathway genes impacts the fitness of western corn rootworm. Sci Rep. 2018 May 18;8(1):7858. doi: 10.1038/s41598-018-26129-6. PubMed PMID: 29777111; PubMed Central PMCID: PMC5959937. See more on PubMed