To address the cluster of researchers who is not convinced on our technology, the ID3EAL miRNA qPCR Starter Kit will cater to their needs.
Researchers will be able to select from the pool of validated catalogue ID3EAL miRNA qPCR Assay. Limited to human assays only.

ID3EAL miRNA Starter qPCR Kit
MiRXES ID3EAL miRNA qPCR Starter Kit provides the perfect solution for research groups generating initial microRNA data. It contains all reagents required to perform 20 cDNA reactions and 200 PCR reactions. The MiRXES ID3EAL miRNA qPCR Starter Kit allows user to pick two validated primer sets of choice.
MiRXES ID3EAL Individual miRNA qPCR Assay have been optimized to provide accurate, single-plex and multi-plex microRNA detection on most real-time PCR cyclers.

Wet-lab validated assays in accordance with the MIQE guidelines.


High-performance proprietary qPCR master mix specifically designed for the MiRXES ID3EAL microRNA PCR system.


MiRXES' patented miRNA RT-qPCR technology delivers results from RNA samples in just 2 hours.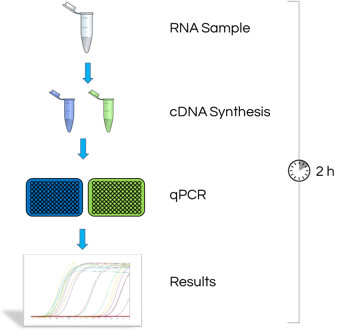 CAT. NO.
Name
DESCRIPTION
REACTIONS
1104301
ID3EAL miRNA qPCR Starter Kit,
2 Targets (20)
For 2 x targets
20 cDNA and 100 qPCR reactions
1 x 10 μl of ID3EAL Reverse Transcriptase (20x)
1 x 100 μl of ID3EAL miRNA RT Buffer (4x)
2 x 10 μl of ID3EAL miRNA RT Primers (20x)
1 ml of ID3EAL miRNA qPCR Master Mix
(2x),2 x 200 μl of ID3EAL miRNA qPCR Assay (10x)
Limited to human assays only
20
1104371
ID3EAL miRNA qPCR Starter Kit,
2 Targets -Hi-ROX (20)
For 2 x targets
20 cDNA and 100 qPCR reactions
1 x 20 µl of ID3EAL Reverse Transcriptase (20x)
1 x 100 µl of ID3EAL miRNA RT Buffer (4x)
2 x 20 µl of ID3EAL miRNA RT Primers (20x)
1 ml of ID3EAL miRNA qPCR Master Mix (2x)
2 x 200 µl of ID3EAL miRNA qPCR Assay (10x)
Limited to human assays only
For High-ROX qPCR instruments
Lead time 7-21 days
20