Introducing CLIA solution from BioVendor Group – the first joint project of our innovative companies TestLine, BioVendor R&D and DiaSource. Via a unique diagnostic platform we offer an answer to the biggest challenges of current laboratory diagnostics – automation and personalization for small and large laboratories.

BioVendor Group presents a CLIA solution for complex diagnostics
The CLIA solution from BioVendor Group contributes to the fulfillment of our common vision – fast, reliable and affordable laboratory diagnostics.
Fully automated walk-away analyzer
Set up, start, walk away. KleeYa® technology from Diatron is a perfectly tuned system for the fast and smooth running of the laboratory. This platform, based on the principle of random-access, allows you to respond flexibly to current needs, but it hides many more thoughtful details. Discover them!
Learn more about the technology
Attractive portfolio of diagnostic kits from BioVendor Group
The vision of a uniquely comprehensive portfolio with a focus on personalized medicine expands the diagnostic possibilities of your laboratory. Close co-operation of the innovative BioVendor Group companies guarantees high quality, reliability and rapid adaptation of current trends.
Diagnostic panels that make work easier
The CLIA solution offers a number of innovative tools that make your work easier. One of them is clearly organized diagnostic panels – specifically designed compilations of tests from our leading specialists, which save valuable time for laboratory staff.
Have a look at diagnostic panels
Synergy of innovative companies
The CLIA solution project was created as a collaboration of leading European biotechnology companies. You can take full advantage of the capabilities of Diatron's advanced KleeYa® automated platform thanks to the portfolio of kits developed and manufactured by BioVendor Group's innovative core companies - TestLine, BioVendor R&D and DiaSource. This synergy gives rise to a unique shared know-how that makes the CLIA solution a constantly evolving organism.
Find out more about the development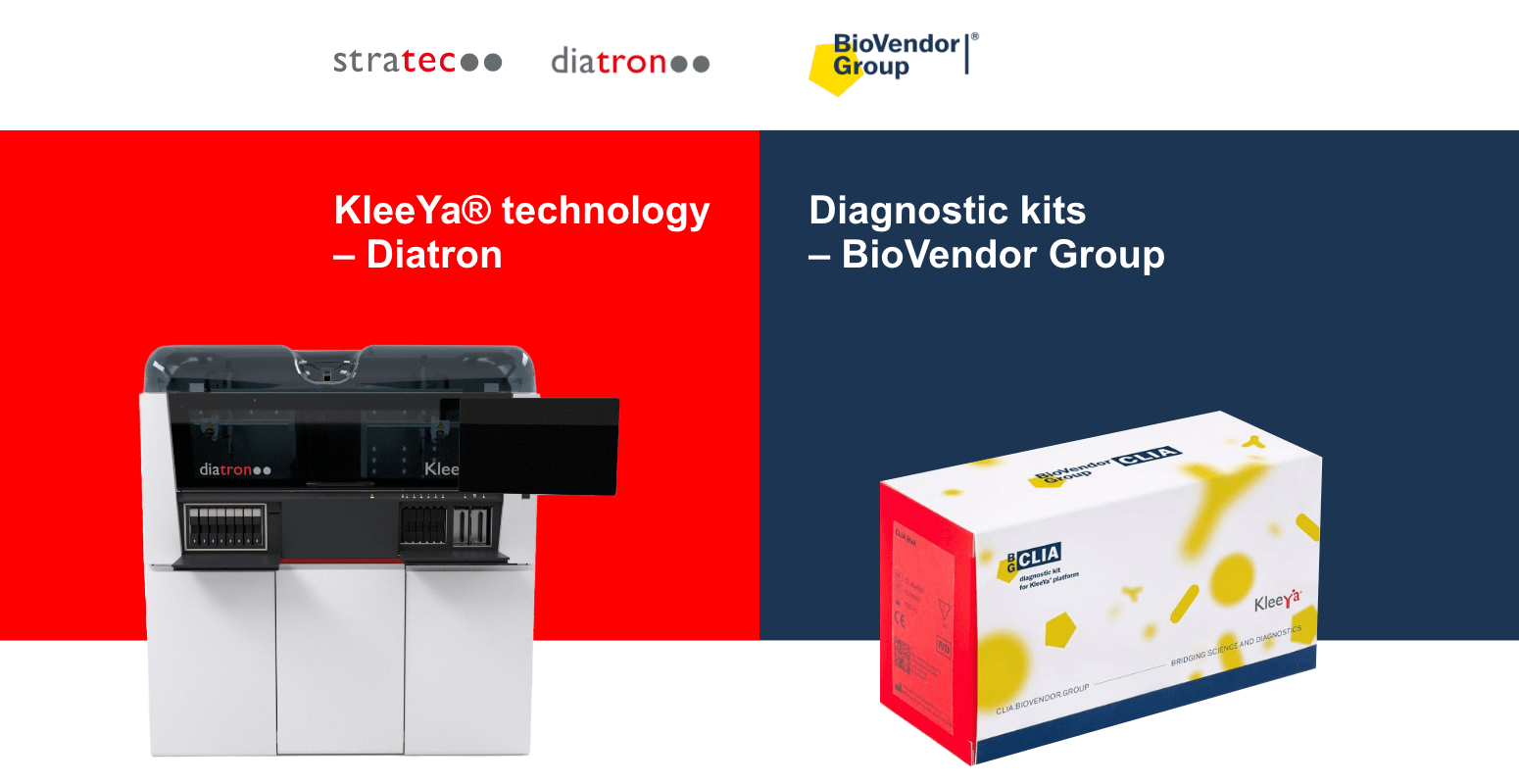 Premium customer and technical support
You probably already know the high level of our sales and service teams.For the CLIA solution, our specialists are ready to help you with any requirements - remotely or in person in your laboratory.
Learn about CLIA support options
Timeless solution for personalized diagnostics
We believe that the personalization of services is an integral part of the future of laboratory diagnostics. The whole concept of the CLIA solution is designed with this vision.
Because the future is always nearer than we expect.
The future of laboratory diagnostics is here.
Welcome the CLIA solution from BioVendor Group!