Cat # changed from RMEE022 to E022
Type
Sandwich ELISA, Biotin-labelled antibody
Description
The hGH SENSITIVE ELISA E022 is a so-called sandwich-assay. It utilizes a specific, high affinity polyclonal rabbit antiserum coated on the wells of a microtiter plate. The hGH in the samples binds quantitatively to the immobilized antiserum. In the following step, the biotinylated antibody in turn binds hGH. After washing, a streptavidin-peroxidase-enzyme conjugate will be added, which will bind highly specific to the biotin of the antibody and will catalyze the substrate to change the color quantitatively depending on the hGH level of the sample.
Applications
Serum, Plasma-EDTA, Plasma-Heparin, Plasma-Citrate
Sample Requirements
10 µL
Shipping
On blue ice packs. Upon receipt, store the product at the temperature recommended below.
Storage/Expiration
Store the complete kit at 2–8°C. Under these conditions, the kit is stable until the expiration date (see label on the box).
Calibration Curve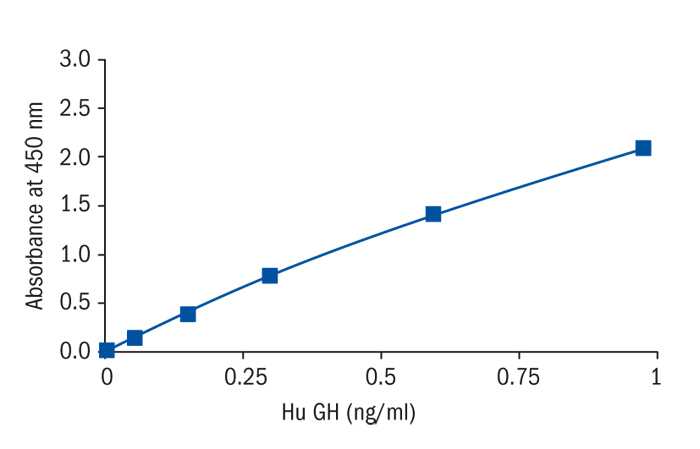 Calibration Range
0,05 - 1 ng/ml
Limit of Detection
0.0115 µg/L
Intra-assay (Within-Run)
CV = 5.46%
Inter-assay (Run-to-Run)
CV = 4.34%
Note
The kits are CE-IVD certified and intended for professional use.