Type
Recombinant protein
Description
Expressed in E. coli with total 194 AA. MW: 21.8 kDa (calculated).
Amino Acid Sequence
NITNLCPFGEVFNATRFASVYAWNRKRISNCVADYSVLYNSASFSTFKCYGVSPTKLNDLCFTNVYADSFVIRGDEVRQIAPGQTGKIADYNYKLPDDFTGCVIAWNSNNLDSKVGGNYNYLYRLFRKSNLKPFERDISTEIYQAGSTPCNGVEGFNCYFPLQSYGFQPTNGVGYQPYRVVVLSFELLHAPATV
Source
E. coli
Purity
95%
SDS-PAGE Gel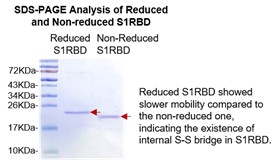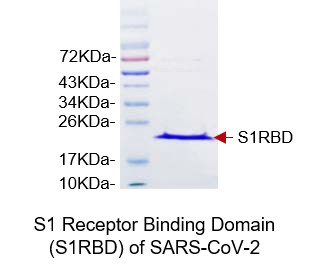 Biological Activity
Antigenicity Test
Antigenicity validated in patient serum samples via ELISA test by coating SARS-CoV-2 S1RBD as capture antigen. Antiginetic response even in 900-fold diluted patient serum.
Formulation
As liquid with vials containing S1RBD to 1.8 mg/mL in 50mM Tris, 300mM NaCl, 10% Glycerol, PH8.0.
Reconstitution
Defrost at ambient temperature
Storage/Expiration
Store vial at –20°C to –80°C. Please prevent freeze-thaw cycles.
Quality Control Test
BCA to determine quantity of the protein.
SDS PAGE to determine purity of the protein.
Note
This product is intended for research use only.