True walkaway system with complete automation and liquid-handling functions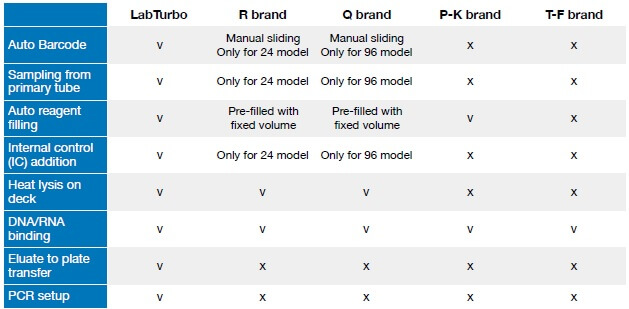 More automation, less hands-on time, faster DNA/RNA extraction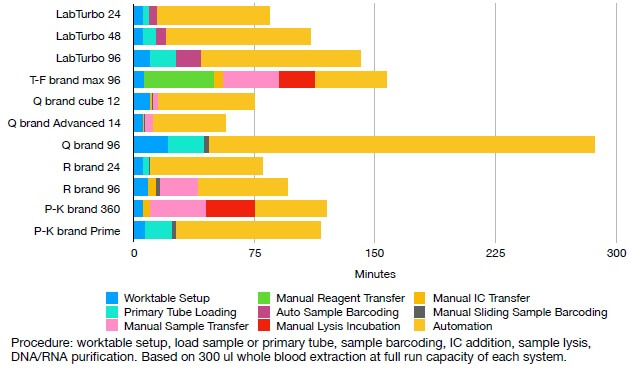 Complete diagnostic procedure automation with LabTurbo AIO

Sample-to-result procedures for HIV/HBV/HCV/HPV detection, infectious disease screening, cancer detection, non-invasive prenatal diagnosis (NIPD), methylated DNA detection and many more.
Reliable purification technology and versatility
Purification technology

Versatility

LabTurbo systems use individual membrane column and vacuum technology to provide consistent and reliable DNA/RNA purification.

Wash-away purification style successfully eliminates PCR inhibitor carry-over and achieves superb impurity removal.

Comprehensive impurity removal makes LabTurbo excellent for challenging sample types such as stool, urine, soil, etc.


Distinguish between viral and bacterial infections LabTurbo systems are suitable for extracting genomic DNA, total RNA, CtDNA, CfDNA, bacterial DNA, viral DNA/RNA and micro RNA from various sample types.

Up to 3 ml of sample volume for enhanced sensitivity. Flexible sample numbers for all throughputs.

6-channel real-time PCR system (FAM, HEX, ROX, Cy5, TAMRA & Quasar 705) compatible with commercial qPCR kits.
True user-friendly design
LabTurbo automation is designed for users to use the least time and effort to reach maximum productivity. User-friendly designs include 1. Worktable setup in less than 10 minutes, 2. Automatic sample and reagent transfer (no manual sample or reagent transfer needed), 3. 6-strip consumable format for quick setup.
Quick worktable setup in 10 minutes

Advanced robotics & documentation for reliable and consistent results

Accurate liquid and object handling with embedded object sensor, ultrasonic sensor, and CV<5% pipetting system. Real-time photo capture and system log documentation record all the run details for full operation traceability.