Type
Recombinant protein
Description
Total 173 AA. MW: 19.1 kDa (calculated). UniProtKB acc.no. P17742 (Val2-Leu164). N-terminal his-tag (10 extra AA). Protein identity confirmed by MS.
Amino Acid Sequence
MKHHHHHHASVNPTVFFDITADDEPLGRVSFELFADKVPKTAENFRALSTGEKGFGYKGSSFHRIIPGFMCQGGDFTRHNGTGGRSIYGEKFEDENFILKHTGPGILSMANAGPNTNGSQFFICTAKTEWLDGKHVVFGKVKEGMNIVEAMERFGSRNGKTSKKITISDCGQL
Source
E. coli
Purity
˃ 90 % by SDS-PAGE
SDS-PAGE Gel
14 % SDS-PAGE separation of Mouse Cyclophilin A :
1. M.W. marker – 14, 21, 31, 45, 66, 97 kDa
2. Reduced and boiled sample, 2.5 μg/lane
3. Non-reduced and non-boiled sample, 2.5 μg/lane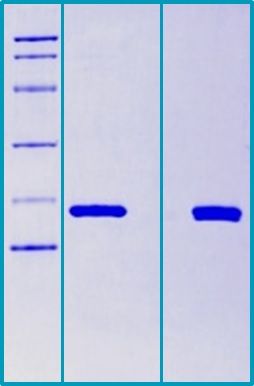 Endotoxin
< 1.0 EU/µg
Formulation
Filtered (0.4 μm) and lyophilized from 0.5 mg/ml solution in phosphate buffered saline, pH 7.2
Reconstitution
Add deionized water to prepare a working stock solution of approximately 0.5 mg/ml and let the lyophilized pellet dissolve completely.
Applications
Western blotting, ELISA
Shipping
At ambient temperature. Upon receipt, store the product at the temperature recommended below.
Storage/Expiration
Store the lyophilized protein at -80 °C. Lyophilized protein remains stable until the expiry date when stored at -80 °C. Aliquot reconstituted protein to avoid repeated freezing/thawing cycles and store at -80 °C for long term storage. Reconstituted protein can be stored at 4 °C for a week.
Quality Control Test
BCA to determine quantity of the protein.
SDS PAGE to determine purity of the protein. Endotoxin level determination.
Note
This product is intended for research use only.