Type
Recombinant protein
Description
Total 789 AA. MW: 90.9 kDa (calculated). UniProtKB acc. No. Q5CAQ5 (Asp22–Glu798). N-terminal linker (2 extra AA), C-terminal linker (4 extra AA) and C-terminal His-tag (6 extra AA). Protein identity confirmed by LC-MS/MS.
Amino Acid Sequence
ASDDEVDVDGTVEEDLGKSREGSRTDDEVVQREEEAIQLDGLNASQIRELREKSEKFAFQAEVNRMMKLIINSLYKNKEIFLRELISNASDALDKIRLISLTDENALSGNEELTVKIKCDKEKNLLHVTDTGVGMTREELVKNLGTIAKSGTSEFLNKMTEAQEDGQSTSELIGQFGVGFYSAFLVADKVIVTSKHNNDTQHIWESDSNEFSVIADPRGNTLGRGTTITLVLKEEASDYLELDTIKNLVKKYSQFINFPIYVWSSKTETVEEPMEEEEAAKEEKEESDDEAAVEEEEEEKKPKTKKVEKTVWDWELMNDIKPIWQRPSKEVEEDEYKAFYKSFSKESDDPMAYIHFTAEGEVTFKSILFVPTSAPRGLFDEYGSKKSDYIKLYVRRVFITDDFHDMMPKYLNFVKGVVDSDDLPLNVSRETLQQHKLLKVIRKKLVRKTLDMIKKIADDKYNDTFWKEFGTNIKLGVIEDHSNRTRLAKLLRFQSSHHPTDITSLDQYVERMKEKQDKIYFMAGSSRKEAESSPFVERLLKKGYEVIYLTEPVDEYCIQALPEFDGKRFQNVAKEGVKFDESEKTKESREAVEKEFEPLLNWMKDKALKDKIEKAVVSQRLTESPCALVASQYGWSGNMERIMKAQAYQTGKDISTNYYASQKKTFEINPRHPLIRDMLRRIKEDEDDKTVLDLAVVLFETATLRSGYLLPDTKAYGDRIERMLRLSLNIDPDAKVEEEPEEEPEETAEDTTEDTEQDEDEEMDVGTDEEETAKESTAEGPKLHHHHHH
Source
HEK293
Purity
Purity as determined by densitometric image analysis: >90%
SDS-PAGE Gel
14 % SDS-PAGE separation of Human GP96 (HSP90B1):
1. MW marker – 14, 21, 31, 45, 66, 97 kDa
2. Reduced and boiled sample, 2.5 μg/lane
3. Non-reduced and non-boiled sample, 2.5 μg/lane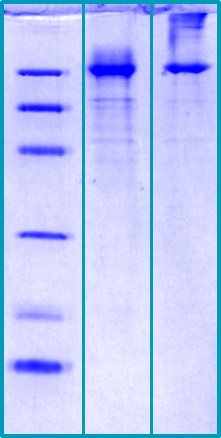 Endotoxin
< 1.0 EU/ug
Formulation
Filtered (0.4 μm) and lyophilized in phosphate buffered saline (PBS) pH 8.0, 1% (w/v) Sucrose, 4% (w/v) Mannitol
Reconstitution
Add 200 µl of deionized water to prepare a working stock solution of approximately 0.5 mg/ml and let the lyophilized pellet dissolve completely. Filter sterilize your culture media/working solutions containing this non-sterile product before using in cell culture.
Applications
Western blotting, ELISA, Cell culture and/or animal studies
Shipping
On ice. Upon receipt, store the product at the temperature recommended below.
Storage/Expiration
Store the lyophilized protein at -80 °C. Lyophilized protein remains stable until the expiry date when stored at -80 °C. Aliquot reconstituted protein to avoid repeated freezing/thawing cycles and store at -80 °C for long term storage. Reconstituted protein can be stored at 4 °C for three days.
Quality Control Test
BCA to determine quantity of the protein.
SDS PAGE to determine purity of the protein.
LAL to determine quantity of endotoxin.
Note
This product is intended for research use only.