Type
miREIA – miRNA enzyme immunoassay
Applications
Whole blood, PBMC, Cell culture lysates
Sample Requirements
10 µl/well
Shipping
At ambient temperature. Upon receipt, store the product at the temperature recommended below.
Storage/Expiration
Store the complete kit at 2–8°C. Under these conditions, all components are stable until the expiration date (see label on the box).
Calibration Curve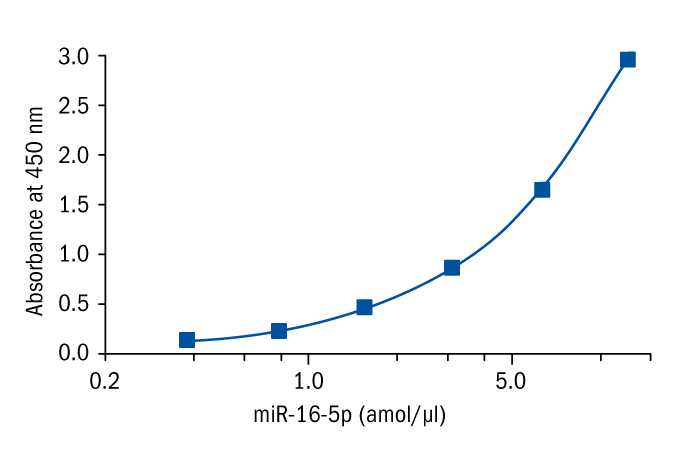 Calibration Range
12.5 – 0.39 amol/μl
Limit of Detection
0.13 amol/μl
Intra-assay (Within-Run)
n = 8,
CV = 4.6%
Inter-assay (Run-to-Run)
n = 5,
CV = 8.6%
Spiking Recovery
104.6%
Dilution Linearity
89.2%
Specificity
Crossreactivity with the miRNA family members exhibiting high sequence identity cannot be excluded.
Note
Product Manual: miREIA - microRNA enzyme immunoassay
Have you bought miREIA kits and need help with assay procedure? Please look at product manual video how easy using the miREIA method is.



Product Manual: miREIA - microRNA enzyme immunoassay
Homology
Exact inter-species homology was found for example for:
Bonobo
Brown anole
Brown bat
Brown woolly monkey
Carolina anole
Chimpanzee
Chinese hamster
Dog
Geoffroy's spider monkey
Horse
Mouse
Platypus
Rat
Salmon
Short-tailed opossum
Western gorilla
White-lipped tamarin
Wild boar