Type
Sandwich ELISA, Biotin-labelled antibody
Description
The human IL-33 ELISA is an enzyme-linked immunosorbent assay for the quantitative detection of human IL-33. The human IL-33 ELISA is for research use only. Not for diagnostic or therapeutic procedures.
Applications
Serum, Plasma-Heparin, Plasma-Citrate, Cell culture supernatant
Sample Requirements
50 µl/well
Shipping
On blue ice packs. Upon receipt, store the product at the temperature recommended below.
Storage/Expiration
Store the complete kit at 2–8°C. Under these conditions, the kit is stable until the expiration date (see label on the box).
Calibration Curve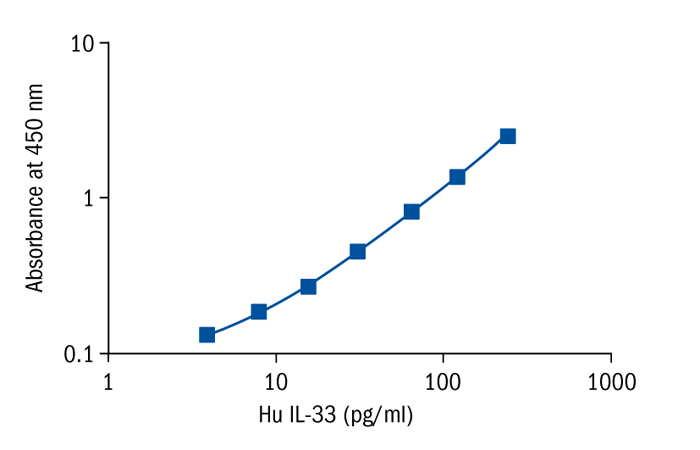 Calibration Range
7.8–500 pg/ml
Limit of Detection
0.9 pg/ml
Intra-assay (Within-Run)
CV = 4.7%
Inter-assay (Run-to-Run)
CV = 6.9%
Dilution Linearity
99%
Specificity
The assay detects both natural and recombinant human IL-33. The cross reactivity and interference of circulating factors of the immune system was evaluated by spiking these proteins at physiologically relevant concentrations into a human IL-33 positive sample. There was no cross reactivity or interference detected, notably not with IL-1α, IL-1β and IL-18.