Type
Recombinant protein
Description
SARS-CoV-2 Spike Glycoprotein (S2), Wuhan-Hu-1 strain.Contains Spike protein amino acids 800-1000, with C-term 6xHis-tag.
Source
E. coli
Purity
Recombinant protein manufactured in E. coli cells and purified to >90% purity.
SDS-PAGE Gel
SDS-PAGE: Coomassie-stained SDS-PAGE showing purified protein.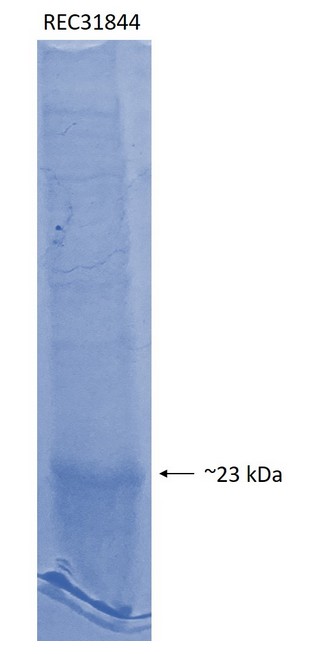 Formulation
Presented in PBS.
Reconstitution
Defrost at ambient temperature
Applications
Western blotting, ELISA, COVID-19
Shipping
On ice. Upon receipt, store the product at the temperature recommended below.
Storage/Expiration
Store protein at -80°C. Protein remains stable until the expiry date when stored at -80°C. Avoid repeated freezing/thawing cycles.
Note
This product is intended for research use only.