Type
Recombinant protein
Description
Recombinant SARS-CoV-2 Spike protein N-terminal domain (NTD). This domain shows the lowest sequence ID compared to SARS-CoV Spike protein. The protein is produced in HEK293 cells and purified from culture supernatant by Protein G chromatography.Contains Spike protein 1-260, C-terminally tagged with sheep Fc.
Source
HEK293
Purity
95%
SDS-PAGE Gel
SDS-PAGE: REC31835 run on a denaturing SDS-PAGE under reducing conditions, stained with Coomassie.
MW marker
Purified N-terminal domain (9 µg)
Purified N-terminal domain (4.5 µg)
Purified N-terminal domain (1.8 µg)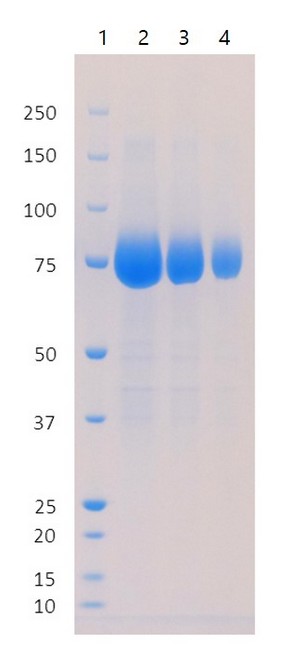 Formulation
Presented in Dulbecco's phosphate buffered saline (DPBS).
Reconstitution
Defrost at ambient temperature
Applications
Western blotting, ELISA, COVID-19
Shipping
On ice. Upon receipt, store the product at the temperature recommended below.
Storage/Expiration
Store protein at –80°C. Protein remains stable until the expiry date when stored at –80°C. Avoid repeated freezing/thawing cycles.
Note
This product is intended for research use only.