Type
Active protein
Description
Total 99 AA. MW: 10.7 kDa (monomer), protein active as dimer
Amino Acid Sequence
PQFSLWKRPVVTAHIEGQPVEVLLDTGADDSIVAGIELGSNYSPKIVGGIGGFINTKEYKNVEIEVLNKRVRATIMTGDTPINIFGRNILASLGMSLNL
Source
E. coli
Purity
Purity as determined by densitometric image analysis: >90%
SDS-PAGE Gel
14% SDS-PAGE separation of Human HIV-2 Protease
1. M.W. marker – 10, 20, 30, 40, 60, 80 kDa
2. reduced and heated sample, 2.5 μg/lane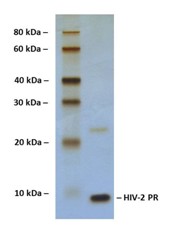 Formulation
20 mM Tris, 20 mM MES, 200 mM NaCl, 10% glycerol, 1 mM EDTA, 0.5 mM DTT, 0.05% PEG 8000, pH 7.0 – filtered (0.4 μm), frozen
Reconstitution
Defrost at ambient temperature.
Applications
Kinetic studies, Inhibitor screening, Crystallography
Shipping
On ice. Upon receipt, store the product at the temperature recommended below.
Storage/Expiration
Store protein at -80°C. Protein remains stable until the expiry date when stored at -80°C. Avoid repeated freezing/thawing cycles.
Quality Control Test
SDS PAGE to determine purity of the protein.
Active site titration by tightly binding inhibitor.
Note
Km = 740 μM Kcat = 3 s-1 Kcat /Km = 4.1 mM-1 s-1 with peptide substrate ATLNFPISPW