Dear customer, we would like to introduce our new products from February 2020 and hope you will find them interesting. Below is a list of events, in which we plan to participate in 2020:
Medlab Middle East 2020 (3 \ 2 \ - 6 \ 2 \ 2020 - Dubai)
ORS 2020 Annual Meeting (8 \ 2 \ - 10 \ 2 \ 2020 - Phoenix)

NEW miREIA KITS
| | | |
| --- | --- | --- |
| CAT. NO. | NAME | ASSAY FORMAT |
| RDM0034H | hsa-miR-29a-3p | miREIA – miRNA enzyme immunoassay |
| RDM0037H | hsa-miR-137-3p | miREIA – miRNA enzyme immunoassay |
| RDM0038H | hsa-piR-5937 | miREIA – miRNA enzyme immunoassay |
Featured product: hsa-piR-5937 miREIA
piR-5937 – a member of a patented panel for colorectal cancer diagnosis and disease staging.
PIWI-Interacting RNAs (piRNAs) are small non-coding RNA molecules (distinct from microRNA) of approximately 24–32 nucleotides in length that often bind to members of the PIWI protein family to play regulatory roles.
expressed in a tissue-specific manner in a variety of human tissues
modulate key signaling pathways at the transcriptional or post-transcriptional level
participate in the epigenetic regulation of cancer and other diseases
play an important role in tumor formation, proliferation, and migration of cells
piRNA and PIWI proteins, which are abnormally expressed in various cancers, may serve as novel promising biomarkers and therapeutic targets for tumor diagnostics and treatment
Based on the levels of piR-5937 and piR-28876, it was possible to differentiate between colon cancerpatients and healthy donors with high sensitivity and specificity. Moreover, both piRNAs also exhibited satisfactory diagnostic performance in patients with stage I disease and enabled the detection of colon cancer with higher sensitivity than currently used biomarkers CEA and CA19-9.
See more about hsa-piR-5937 miREIA
For this and more BioVendor miREIA kits, please visit www.biovendor.com/mirna.
microRNAs (miRNAs) are a class of single-stranded non-coding RNA molecules with a length of 19-23 nucleotides. They play a role in negative post-transcriptional regulation by binding to complementary sequences on mRNA and blocking translation into protein.
miREIA is a BioVendor proprietary method based on the combination of immunoassay and molecular biological principles. The main advantage is the quantitative determination of miRNA concentrations.

TWO-TAILED RT-qPCR
A new technology in BioVendor microRNA Solution portfolio
The patented Two-Tailed RT-qPCR method uses a two-hemiprobe approach to achieve highly accurate quantification of the challenging short miRNA sequences. While each hemiprobe alone is too short to bind the microRNA, when both are complementary they bind cooperatively. The hemiprobes are connected by a folded tether and bind to different stretches of the target miRNA.
A highly specific, sensitive and cost-effective system
Detect down to as few as ten target miRNA molecules
Improved discrimination between similar miRNAs
Two-tailed RT-qPCR assays are designed for microRNA targets specified by the client.
To make miRNA measurements available to any researcher, BioVendor offers a service providing microRNA determination performed by experts in a specialized laboratory.
Covered by patent No.: PTC/US15/45966
For more information see: www.biovendor.com/two-tailed-qpcr


NEW IMMUNOASSAYS
| | | | |
| --- | --- | --- | --- |
| CAT. NO. | SPECIES | NAME | ASSAY FORMAT |
| R3ZGI/96R | Human | 3 Screen Islet Cell Autoantibody | Sandwich ELISA, Biotin-labelled antibody |
| EA203/96 | | SDMA vet | Sandwich ELISA, Biotin-labelled antibody |
Featured product: SDMA vet ELISA
Symmetric dimethylarginine (SDMA) is an early biomarker specific for kidney function, not affected by inflammatory status, CVD, liver disease nor muscle mass.
It is more sensitive than creatinine and correlates well with the glomerular filtration rate (GFR). In chronic kidney disease (CKD), SDMA increases with 30 to 40% loss of kidney function while creatinine does not increase until 75% of kidney function is lost. According to many published studies, 10 % of dogs and 30 % of cats suffer from CKD during their life. In veterinary practice, the SDMA vet test will enable diagnosis of CKD at a much earlier stage than cystatin C or creatinine.
See more about SDMA vet ELISA
RELATED PRODUCTS
EA214/96 SDMA ELISA



NEW PROTEINS
Featured product: STANNIOCALCIN 1 MOUSE E.coli
Stanniocalcin 1 (STC1) may play an autocrine and paracrine role with pleiotropic effects in mammals. It is expressed in a wide variety of tissues but unexpectedly is not detected in the circulation under normal circumstances. STC-1 can affect calcium homeostasis, bone and muscle mass and structure, and angiogenesis through effects on osteoblasts, osteoclasts, myoblasts/myocytes, and endothelial cells in the mouse model. STC1 regulates calcium currents in cardiomyocytes and may contribute to the alterations in calcium homeostasis of the failing heart. STC1 was identified as one of the hypoxia-responsive genes coupled to hypoxia-driven angiogenesis. Current research indicates that STC-1 might be a useful molecular marker to detect tumor cells in blood and bone marrow from patients with various types of malignancies.
BioVendor Mouse Stanniocalcin 1 is a recombinant protein expressed in HEK293 cells. Total 235 AA. MW 26.6 kDa (calculated). UniProtKB acc. No. O55183 (His19-Ala247). C-terminal His-tag (6 extra AA).
Protein identity confirmed by LC-MS/MS. Endotoxin < 0.1 EU/μg. Formulation: Filtered (0.4 μm) and lyophilized from 0.5 mg/ml solution in 20 mM Tris buffer, 50 mM NaCl, pH 7.5.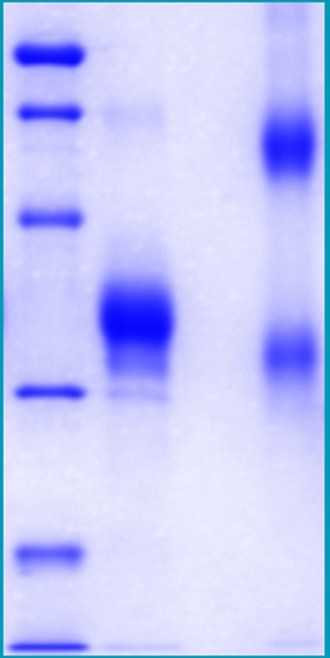 12% SDS-PAGE separation of Human Stanniocalcin-1:

1. M.W. marker – 14, 21, 31, 45, 66, 97 kDa
2. Reduced and heated sample, 5μg/lane
3. Non-reduced and non-heated sample, 5μg/lane
See more about STANNIOCALCIN 1 MOUSE E.coli


RELATED PRODUCTS
RD191095200R Stanniocalcin 1 Human ELISA
RD172095100 Stanniocalcin 1 Human HEK293
RD181095100 Stanniocalcin 1 Human, Rabbit Polyclonal Antibody

NEW ANTIBODIES
| | | | | |
| --- | --- | --- | --- | --- |
| CAT. NO. | SPECIES | NAME | REACTIVE SP. | SIZE |
| RD181035100 | Anti-Human | Connective Tissue Growth Factor | Rabbit Polyclonal Antibody | 0.1 mg |
| RD184035100 | Anti-Human | Connective Tissue Growth Factor | Sheep Polyclonal Antibody | 0.1 mg |
| RD184041100 | Anti-Human | Insulin Receptor | Sheep Polyclonal Antibody | 0.1 mg |
| RD184188100 | Anti-Human | Mammaglobin A | Sheep Polyclonal Antibody | 0.1 mg |
| RD181276100 | Anti-Human | Neudesin | Rabbit Polyclonal Antibody | 0.1 mg |
| RD184276100 | Anti-Human | Neudesin | Sheep Polyclonal Antibody | 0.1 mg |
| RD181326100 | Anti-Human | Neuroserpin | Rabbit Polyclonal Antibody | 0.1 mg |
| RD184326100 | Anti-Human | Neuroserpin | Sheep Polyclonal Antibody | 0.1 mg |
| RD184485100 | Anti-Human | NT-proANP | Sheep Polyclonal Antibody | 0.1 mg |
| RD184223100 | Anti-Human | S100A14 | Sheep Polyclonal Antibody | 0.1 mg |
Featured product: ANTI-HUMAN CLUSTERIN MOUSE MONOCLONAL ANTIBODY, CLONE: 8H4
Mammaglobin A (MGB1) is a secretory protein, a member of the uteroglobin gene family. It is a small protein (approximately 10 kDa) containing an alpha-helix in the structure and is often forming dimers. MGB1 overexpression is only limited to cells from most breast cancers and may be used to detect circulating or disseminated tumor cells. It has been published that plasma mammaglobin A expression was a predictor of poor prognosis for breast carcinoma patients, significantly associated with lymph node metastasis and advanced tumor stage. However, they were not associated with menopausal status, EGFR2 status, and tumor size.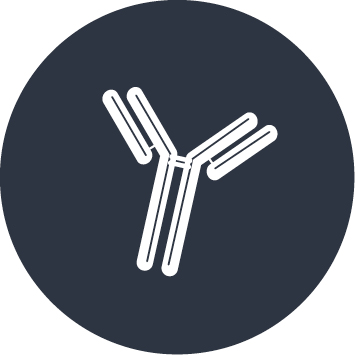 The polyclonal antibody has been obtained from sheep immunized with a recombinant Human Mammaglobin A produced in HE293 cells. The PAbs have been immunoaffinity-purified using the immunization antigen. The antibody was validated for application in ELISA.
Applications: ELISA
See more about Anti-Human Mammaglobin A, Sheep Polyclonal Antibody
RELATED PRODUCTS
RD172188100-HEK Mammaglobin A (Fc Chimera) Human HEK293
BioVendor News Let's keep in touch!
Click to sign up for our newsletter to receive regular updates: NEWLETTER
More information about your data protection rights can be found at Privacy Policy
Blog Categories:
Tags:
Share: