Dear customer, we would like to introduce our new products from October 2018 and hope you will find them interesting. Below is a list of events, in which we plan to participate in 2018:
MEDICA 2018 (12 \ 11 \ 2018 - 15 \ 11 \ 2018 – Dusseldorf)





NEW miREIA KITS
| | | | |
| --- | --- | --- | --- |
| CAT. NO. | STATUS | NAME | ASSAY FORMAT |
| RDM0010H | New | hsa-miR-197-3p miREIA | miREIA – miRNA enzyme immunoassay |
| RDM0022H | New | hsa-miR-486-5p miREIA | miREIA – miRNA enzyme immunoassay |
| RDM0021H | New | hsa-miR-423-3p miREIA | miREIA – miRNA enzyme immunoassay |
| RDM0008H | New | hsa-miR-16-5p miREIA | miREIA – miRNA enzyme immunoassay |
| RDM0012H | New | hsa-miR-24-3p miREIA | miREIA – miRNA enzyme immunoassay |
| RDM0023H | New | hsa-miR-let-7a-5p miREIA | miREIA – miRNA enzyme immunoassay |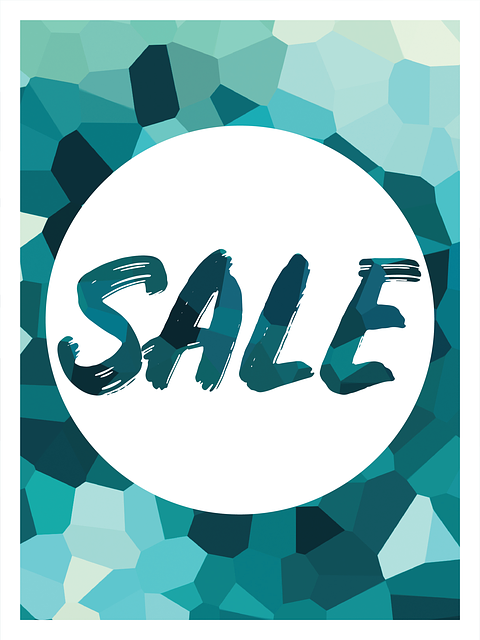 Introducing miREIA Kits - now more affordable for a limited time!
We have reduced the price of miREIA kits
You can order each of them for 495 EUR!
Featured product: hsa-miR-let-7a-5p miREIA
Let-7a-5p, a member of the let-7 miRNA family acts as a tumor suppressor. Cell proliferation, colony formation, migration and invasion were decreased after induced overexpression of let-7a in breast cancer cells. Down-regulation of miR-let-7a-5p is associated with oncological diseases. Reduced levels of miR-let-7a-5p were reported in lung squamous carcinoma, colorectal cancer, urothelial tumors, lymphoms, breast cancer and many other diagnoses.
Apart from its role in tumor suppression, miR-let-7a is involved in cell proliferation pathway in human cells. miRNA-let-7a can act as a regulator of the function of microglia in inflammation and is connected to cerebrovascular and neurodegenerative diseases.
For these and more BioVendor miREIA kits, please visit www.biovendor.com/mirna.
microRNAs (miRNAs) are a class of single-stranded non-coding RNA molecules with a length of 19-23 nucleotides. They play a role in negative post-transcriptional regulation by binding to complementary sequences on mRNA and blocking translation into protein.
miREIA is a BioVendor proprietary method basedo on combination of immunoassay and molecular biological principles. The main advantage is the quantitative determination of miRNA concentrations.

NEW IMMUNOASSAYS
| | | | |
| --- | --- | --- | --- |
| CAT. NO. | SPECIES | NAME | ASSAY FORMAT |
| RD191058200R | Human | Myostatin (Prodomain Specific) ELISA | Sandwich ELISA, Biotin-labelled antibody |
Featured product: HUMAN MYOSTATIN (PRODOMAIN SPECIFIC) ELISA
Myostatin, a muscle-specific transforming growth factor-β (TGF-β), negatively regulates skeletal muscle mass.
Two molecules of the N-terminal prodomain of myostatin noncovalently binds to and suppresses the C-terminal mature domain homodimer as an inactive circulating Myostatin Latent Complex. A majority (>70%) of myostatin in serum is bound in the complex.
The circulating Myostatin Latent Complex has significantly reduced activity compared with the mature growth factor and persists as a stable complex that is resistant to the natural antagonist follistatin.

Validated for human serum, plasma (EDTA, citrate, heparin), urine, and cerebrospinal fluid
The kit measures total Myostatin Latent Complex and free Myostatin Prodomain
Excellent sensitivity (LOD 0.05 ng/ml)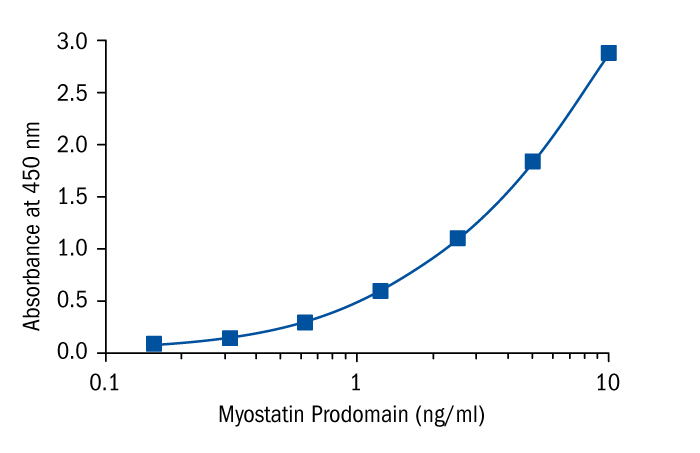 RELATED PRODUCTS
RD172005300 Myostatin Human E. coli
RD172005100-HEK Myostatin Human HEK293
RD172058100 Myostatin Propeptide Human E. coli Tag free
RD172058100-HEK Myostatin Propeptide Human HEK293
RD181005220 Myostatin Human, Bovine PAb
RD183057050 Myostatin Propeptide Human, Chicken PAb
RD1820571004B9 Myostatin Propeptide Human, Mouse MAb, Clone: 4B9
RD1820571006E8 Myostatin Propeptide Human, Mouse MAb, Clone: 6E8



NEW PROTEINS
| | | | | |
| --- | --- | --- | --- | --- |
| CAT. NO. | SPECIES | NAME | SIZE | SOURCE |
| RD172367025 | Human | Angiotensinogen | 0.025 mg | HEK293 |
| RD172122025-HEK | Human | Lecithin-Cholesterol Acyltransferase | 0.025 mg | HEK293 |
| RD172370025 | Human | Leukocyte Cell-Derived Chemotaxin-2 | 0.025 mg | E. coli |
| RD172114025-HEK | Human | Pigment Epithelium-Derived Factor | 0.025 mg | HEK293 |
Featured product: HUMAN ANGIOTENSINOGEN HEK293
Human angiotensinogen (AGT) is a component of the renin-aldosterone-angiotensin system (RAAS), a hormone system that regulates blood pressure and fluid balance. AGT is the only precursor of all angiotensin peptides (I, II, III, and IV) and the cleavage of AGT by renin is the rate-limiting step of RAAS. AGT is mainly produced in the liver and secreted in plasma but also is synthesized in adipocytes, proximal tubule epithelial cells, and astrocytes. AGT identified in urine (UAGT) is produced and secreted by the kidney proximal tubules and does not come from plasma. UAGT reflects intrarenal angiotensin II activity associated with increased risk for deterioration of renal function in patients with chronic kidney disease such as diabetic nephropathy and membranous nephropathy as well as in patients with acute kidney injury. Urinary AGT is increased in hypertensive patients.
BioVendor produces recombinant Human angiotensinogen in HEK293 cell line. The protein contains 462 AA. MW: 51.0 kDa (calculated).
The AA sequence is identical to UniProtKB acc. No. P01019 (Asp34-Ala485). The recombinant protein contains C-terminal linker (2 extra AA) and C-terminal FLAG-tag (8 extra AA). Protein identity confirmed by LC-MS/MS. Endotoxin-free.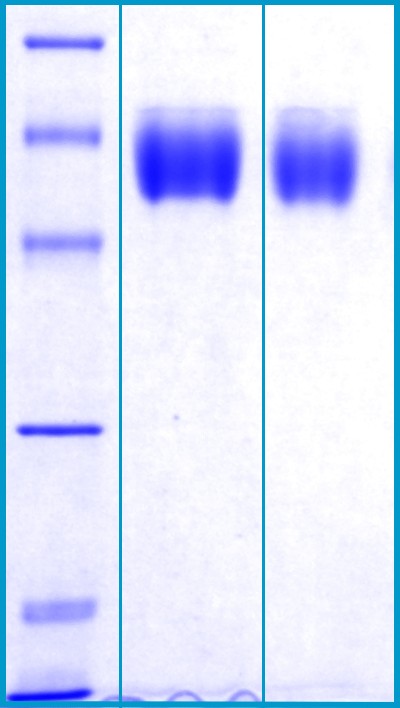 12% SDS-PAGE separation of Human AGT:
1. M.W. marker – 14, 21, 31, 45, 66, 97 kDa
2. reduced and heated sample, 2.5 μg/lane
3. non-reduced and non-heated sample, 2.5 μg/lane
See more about Angiotensinogen Human HEK293
RELATED PRODUCTS
RD191367100R Angiotensinogen Human ELISA








NEW ANTIBODIES
| | | | | |
| --- | --- | --- | --- | --- |
| CAT. NO. | SPECIES | NAME | REACTIVE SP. | SIZE |
| RD481488100 | Anti-Canine | Procalcitonin | Rabbit Polyclonal Antibody | 0.1 mg |
| RD484488100 | Anti-Canine | Procalcitonin | Sheep Polyclonal Antibody | 0.1 mg |
Featured product: ANTI-CANINE PROCALCITONIN RABBIT AND SHEEP POLYCLONAL ANTIBODIES
Procalcitonin (PCT) the precursor of the hormone calcitonin is a 116 amino acid protein with a molecular mass of 13 kDa. The level of procalcitonin in the blood of healthy individuals is low.
Bacterial lipopolysacharide (LPS) is a potent inducer of procalcitonin release into systemic circulation. In humans, procalcitonin levels increase from 3 to 4 hours, peak at about 6 hours and then plateau for up to 24 hours. PCT concentrations specifically increases in response to bacterial infection. Today procalcitonin is one of the earliest and most specific markers of sepsis.
The antibodies have been obtained from rabbits or sheep, respectively, immunized with a recombinant Canine Procalcitonin produced in E.coli. The antibodies have been immunoaffinity purified using the immunization antigen. The antibodies were validated for ELISA application and extended for veterinary focused product line of BioVendor.
See more about PCT Canine Rabbit PAb or PCT Canine Sheep PAb
RELATED PRODUCTS
RD491488200R Procalcitonin Canine ELISA
RD191006200R Procalcitonin Human ELISA
RD472006100 Procalcitonin Canine E. coli
RD872582100 Procalcitonin Horse E. coli
RD172006100 Procalcitonin Human E. coli
RD272006100 Procalcitonin Mouse E. coli
RD572451100 Procalcitonin Porcine E. coli
RD372450100 Procalcitonin Rat E. coli
RD872006100 Procalcitonin Rhesus E. coli
BioVendor News Let's keep in touch!
Click to sign up for our newsletter to receive regular updates: NEWLETTER
More information about your data protection rights can be found at Privacy Policy
Blog Categories:
Tags:
Share: