Successful participation in EQA!
We are pleased to announce that we have successfully participated in the External Quality Assessment (RfB, survey of November 12, 2022), being involved in determination of IL-6.
Please find the Certificate in Docs.
Type
Sandwich ELISA, Biotin-labelled antibody
Applications
Serum, Urine, Cerebrospinal fluid, Bronchoalveolar lavage, Amniotic fluid, Plasma, COVID-19
Shipping
At ambient temperature. Upon receipt, store the product at the temperature recommended below.
Storage/Expiration
Store the kit at 2–8°C. Under these conditions, the kit is stable until the expiration date (see label on the box).
Calibration Curve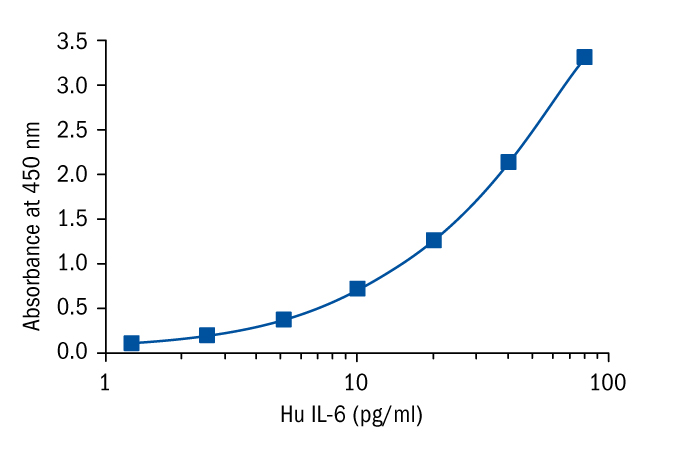 Calibration Range
1.25 – 80 pg/ml
Limit of Detection
0.65 pg/ml
Intra-assay (Within-Run)
n = 8
CV = 4.7%
Inter-assay (Run-to-Run)
n = 6
CV = 4.9%
Spiking Recovery
101.3%
Dilution Linearity
Serum = 91.2%
Urine = 93.3 %
CSF = 84.5%
Amniotic fluid = 99.4%
Note
The kits are CE-IVD certified and intended for professional use.
More about Interleukin-6 on BioVendor Scientific Blog