Clusterin is one of the central stress response proteins. It exists in two variants. The major longer secreted form of clusterin (sCLU) exerts an anti-apoptotic function and the nuclear form (nCLU) has a pro-apoptotic function.
sCLU binds extracellularly to stressed and unfolded proteins to form a clusterin – damaged protein complex. This complex is subjected to either interaction with other chaperones in order to refold the damaged protein or interaction with cellular receptors resulting in lysosomal or proteasomal degradation inside the cell.
Clusterin is a heavily N-glycosylated heterodimer, is secreted by almost all mammalian tissues and can be found in plasma, milk, urine, cerebrospinal fluid or semen.
Clusterin expression is elevated during oxidative, heat or TNF induced stresses and in the course of some diseases such as gliomas, infections, Alzheimer disease, retinitis pigmentosa, myocardial infarction, renal tubular damage, autoimmunity and others.
Clusterin is able to form complexes with immunoglobulins, components, paraoxonase, leptin, lipids, heparin, bacteria, complement and others. It can also bind to beta amyloid and inhibit formation of its fibrils.
As clusterin plays a significant role in many pathophysiological conditions it is useful to depict at least some of them:
Clusterin and hepatocellular carcinoma
Hepatocellular carcinoma (HCC) is the most common type of primary liver cancer in adults, and is the most common cause of death in people with cirrhosis.
Metastasis is a leading cause of poor prognosis in patients with hepatocellular carcinoma. Secreted clusterin (sCLU) is overexpressed in HCC. It was noted that downregulation of sCLU decreased invasiveness whereas overexpression of sCLU significantly enhanced invasivity of cells via enhancing the expression level of MMP-2 and E-cadherin in model cell lines.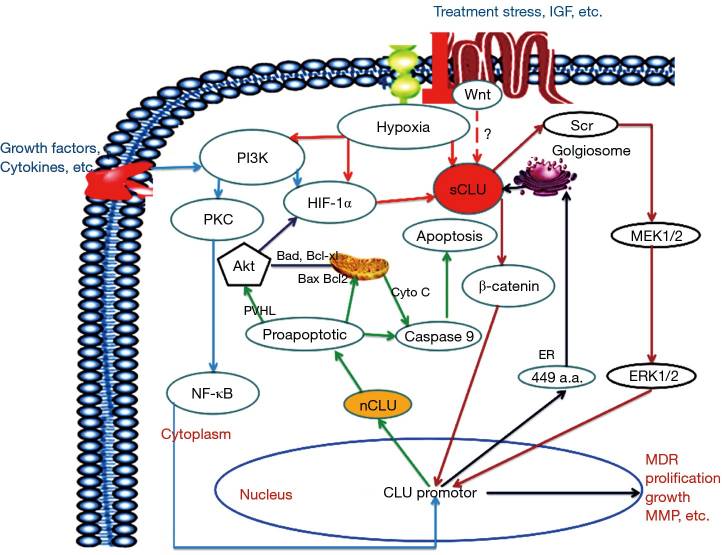 Furthermore, in these cells the inhibitory effect of meloxicam (a selective COX-2 inhibitor) on invasion and proliveration is through down-regulation of sCLU expression. However, many pathophysiological conditions by CLU shRNA decreased abundance of p-AKT. These results suggest that targeting of sCLU may be a novel therapeutic strategy directed against HCC cell invasiveness.
Clusterin and Ionizing radiation
Clusterin gene expression is induced by Ionizing radiation (IR) - indicating clusterin has a potential role in ionizing radiation-induced adaptive response, genomic instability, and radiation bystander effects.
The clusterin promoter is inducible by both low and high doses of IR.
Two major forms of CLU, secreted (sCLU) and nuclear (nCLU), possess opposite functions in responses to IR: sCLU is cytoprotective, whereas nCLU is a pro-death factor. Recent studies have demonstrated that down-regulation of sCLU by silencing RNA increased cytotoxic responses to chemotherapy and IR.
Conversely sCLU was induced after low non-toxic doses of IR (0.02-0.5 Gy) in human and mice cells. This inducibility suggests a role for sCLU variant in radiation adaptive responses and increase of cell radioresistance.
Adiposity and systemic inflammation
Metabolic syndrome is associated with low-grade chronic inflammation. Clusterin has recently been detected as a promising marker that reflects the inflammatory process in Alzheimer's disease.
Analysis of relationship between plasma clusterin concentrations and clinical parameters revealed that fasting plasma clusterin concentrations were higher in overweight and obese subjects than in lean subjects.
Moreover correlation was found between plasma clusterin levels and hallmarks of obesity such as body mass index (BMI), waist circumference and waist-hip ratio and markers of systemic inflammation such as high sensitivity C-reactive protein (hsCRP), uric acid, ferritin and retinol binding protein-4.
Regression analysis then confirmed that sex, BMI and hsCRP were determinants of plasma clusterin levels. Furthermore, plasma clusterin levels showed positive trend correlating with increasing numbers of metabolic syndrome severity. These findings suggest that fasting plasma clusterin levels correlate with the parameters of adiposity and systemic inflammation in healthy adults.
Therefore, sCLU level in sera can be a marker for obesity-associated systemic inflammation.
New Clusterin from BioVendor!
BioVendor is excited to present its broad portfolio in Clusterin products!
You can learn more about these products through the links below, or by contacting us at info@biovendor.com.
Blog Categories:
Tags:
Share: